Painting Services Rhode Island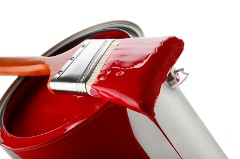 If it's time to consider repainting your home's exterior or interior you have come to the right place.
If your exterior is a bit worse for the wear after years of cold winters and hot summers it may be time to consider your options.
Or if your interior painted areas just need a little freshening up to brighten up your living space. Either way, it pays to invest in getting your home painted by Trafford Home Improvement.
Our Company offers a full line of residential painting services and can provide interior and exterior painting for your home.

From painting a bedroom to the exterior of a 3,000 square foot home, our company has the resources, knowledge, and expertise to get any painting project done right the first time, on schedule, and on budget. Trafford Home Improvement stands above the rest by being the complete source for all of your home improvement and remodeling needs.
If you are considering vinyl siding as an option then click here to learn all about the services we provide as professional vinyl siding installers Vinyl Siding
If you are looking for a Rhode Island painting contractor, please
call us today at
401-954-1053
or send an email to:
calltrafford@gmail.com


Our Specialites:
/* <![CDATA[ */ function centerSocialProfilesWidgets() { centerSocialProfilesWidgets = function () {}; var wrapperDiv = document.getElementById('social-profiles-widget-wrapper'); var sidebarLi = wrapperDiv.parentNode; var liWidth = sidebarLi.clientWidth; var icon = sidebarLi.getElementsByTagName('span')[0]; if (icon) { var iconWidth = icon.clientWidth; var padding = Math.floor((liWidth % iconWidth) / 2); wrapperDiv.style.paddingLeft = padding + 'px'; } } /* ]]> */