Custom Decks and Porches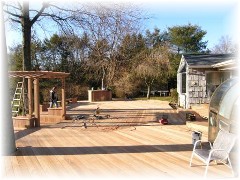 Decks are becoming more and more popular for Rhode Island homeowners. A well-planned deck can transform your backyard into a place for relaxation and entertaining and can also accentuate your home's distinct style.

At Trafford Home Improvement , we can build a deck that will meet your family's needs, and we will advise you on design and material choices.

At your invitation, we will come out to your home to make an assessment of what is possible for your space.
Decks Rhode Island - Getting A Deck Built For Your Home
A deck from Trafford Home Improvement will add beauty and value to your home and extra comfort to your life. It can be just the place to host a get together with friends or simply the perfect place to sit back and relax. We can customize and build your deck so that it will blend in with your present home design and terrain. Decks can be built in a variety of ways from simple to unique design depending on, square footage, features, terrain etc. We will help you choose exactly the right deck for maximum outdoor enjoyment.
Remember at Trafford Home Improvement we always offer a quality job at an affordable price and we will work with you to help determine what is right for you family's needs and within your budget.
Porches
Many of the porches we do in our remodeling business are a reconstruction of an existing structure that needs to be replaced or repaired. We strive to authenticate the same structure or modify it to meet present living conditions. We are flexible and will remove, restore or restructure your porch to meet your design needs. We can work with you to determine what is possible for your home's unique design.
If you are looking for a Rhode Island custom deck company,
please call us today at
401-954-1053
or send an email to:
calltrafford@gmail.com
Custom Deck Photos


Our Specialites:
/* <![CDATA[ */ function centerSocialProfilesWidgets() { centerSocialProfilesWidgets = function () {}; var wrapperDiv = document.getElementById('social-profiles-widget-wrapper'); var sidebarLi = wrapperDiv.parentNode; var liWidth = sidebarLi.clientWidth; var icon = sidebarLi.getElementsByTagName('span')[0]; if (icon) { var iconWidth = icon.clientWidth; var padding = Math.floor((liWidth % iconWidth) / 2); wrapperDiv.style.paddingLeft = padding + 'px'; } } /* ]]> */