Kitchen Remodeling Rhode Island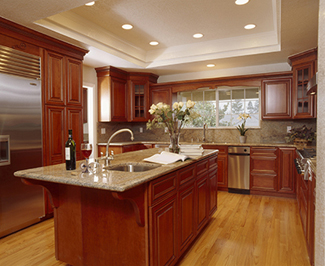 The kitchen is probably one of the most important and complicated rooms to design in your home. Few rooms see so much activity and also challenge designers with such an array of practical, technological, and esthetic considerations. A new kitchen is an excellent investment if well designed.
Whether it is a remodel or a completely new kitchen in a your home; designing a kitchen that meets the requirements of being functional, aesthetically pleasing while keeping within your budget is no easy task.

Kitchen design can be highly specialized and complex. At Trafford Home Improvement, we offer kitchen design services if needed. Our goal is for you to have the kitchen of your dreams.
Testimonial
"It's great to have a remodeling contractor you can trust. I was sick of the "no show" unprofessional contractors. Your company has been super professional and easy to work with. My new kitchen is everything I dreamed about. Thanks again."
R. Johnson, Warwick, RI
If you are looking for a Rhode Island Remodeling contractor, please
call us today at
401-954-1053
or send an email to:
calltrafford@gmail.com
Kitchen Remodeling Photos
Please click on a photo to enlarge.


Our Specialites:
/* <![CDATA[ */ function centerSocialProfilesWidgets() { centerSocialProfilesWidgets = function () {}; var wrapperDiv = document.getElementById('social-profiles-widget-wrapper'); var sidebarLi = wrapperDiv.parentNode; var liWidth = sidebarLi.clientWidth; var icon = sidebarLi.getElementsByTagName('span')[0]; if (icon) { var iconWidth = icon.clientWidth; var padding = Math.floor((liWidth % iconWidth) / 2); wrapperDiv.style.paddingLeft = padding + 'px'; } } /* ]]> */