Trafford Home Improvement is a:
"Lead Safe Certified Firm in R.I."
The Department of Environmental Protection Agency has established new laws which have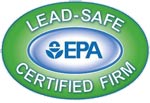 been enacted since 2010. These laws regulate the safe handling of lead found in homes that were built prior to 1978 and make it mandatory that all remodeling which disturbs lead as outlined in there certification course must be conducted by a "lead safe certified firm". This means that if your home was built in 1978 or prior to this date you have lead contamination in the painted areas of your home.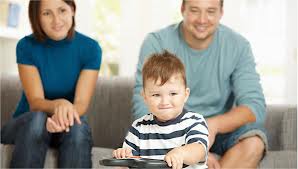 Any remodeling company that will be working on your home that will disturb this lead, according to EPA Guidelines, must have become certified by attending classroom instruction on how to safely handle this lead as approved of by the EPA and must be registered with the state as a lead safe company or remodeler and have on their person an identification card designating them as a lead safe remodeler.
Check out this video explaining the safety measures involved in remodeling your home:
If you are using an internet browser that can't see the video then follow this link to youtube simply Click Here
The EPA is so serious about this new law that they have dictated that a fine can be imposed by their department of up to $33,000 dollars a day for violations of this new law. As stated above Any contractors that are doing remodeling which will disturb lead in homes built prior to 1978 must know how to handle lead in a safe manner for those customers who are living in these homes and must know how to protect the home from contamination of lead particles and cleaning up after work has been completed.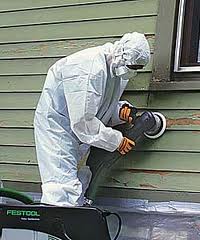 Then an inspection must be performed by an independent firm to swab the area where the work was done so it can be tested to validate that the area where the work was completed is now lead safe. The cost of inspection can be around $125.00 by the inspection company of the homeowners choosing.
Homeowners must understand that this may involve a great inconvenience to their living arrangements depending on the type of renovation, the amount and location of the work specified. Plastic barriers can be erected in certain areas in the home which means all occupants will be forbidden entrance into these areas once the work begins in order to ensure the safety of your family from tracking harmful lead particulates into other areas of the home.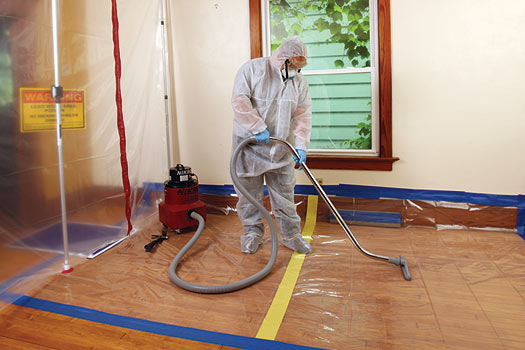 Therefore you may expect that the cost of a paint job, or renovation, will be greater due to the extra measures and cost of ensuring that the EPA Guidelines and safety measures are followed such as the use of protective clothing for workers which includes gloves, masks, goggles, boots, hats, disposal bagging, hepa vacumming, and washing floors, the cleaning of all surfaces and proper disposal of contaminated water are some of the extra materials and activites involved in order to handle the area in a protective and safe manner.
This is not lead abatement which removes all lead from the home, although it may entail some removal of lead and its proper disposal, but rather it is more about the handling of lead in a safe manner while working in your home and to ensure that when the work is finished there will not be lead on surfaces that children or adults can ingest and become poisoned by lead particulates.
There are serious health consequences for families who have children under five years old who may inhale this fine dust created by lead in paint or from paint chips that may be ingested. This applies to interior and exterior surfaces in the home manufactured prior to 1978 and this new law is imposed to help stop those harmful incidents.
For further information about this new law you can check out the EPA website click here

As quoted from thier site: "Common renovation, repair, and painting activities that disturb lead-based paint (like sanding, cutting, replacing windows, and more) can create hazardous lead dust and chips which can be harmful to adults and children. But with careful work practices and thorough clean-up, renovations can be done safely. EPA's Lead Renovation, Repair and Painting Rule (RRP Rule) lowers the risk of lead contamination from home renovation activities. It requires that firms performing renovation, repair, and painting projects that disturb lead-based paint in homes, child care facilities and pre-schools built before 1978 be certified by EPA and use certified renovators who are trained by EPA-approved training providers to follow lead-safe work practices.
To learn more about lead contamination and how to protect your family from the problems associated with it click here for more information.

PDF files you can download to your own computer:
Protect your Family from Lead in your Home
Renovate Right Brochure
If it's time to consider repainting your home's exterior or interior you have come to the right place.
If your exterior is a bit worse for the wear after years of cold winters and hot summers it may be time to consider your options.
Or if your interior painted areas just need a little freshening up to brighten up your living space. Either way, it pays to invest in getting your home painted by Trafford Home Improvement.
Our Company offers a full line of residential painting services and can provide interior and exterior painting for your home.

From painting a bedroom to the exterior of a 3,000 square foot home, our company has the resources, knowledge, and expertise to get any painting project done right the first time, on schedule, and on budget. Trafford Home Improvement stands above the rest by being the complete source for all of your home improvement and remodeling needs.
If you would like to compare the benefits of vinyl siding as an alternative to painting your home then simply click the following link to learn all about the services we provide as professional vinyl siding installers Vinyl Siding
If you are looking for a Rhode Island painting contractor, please
call us today at
401-954-1053
or send an email to:
calltrafford@gmail.com