Gutters etc.
We Clean Gutters...
A good gutter system prevents damage to your siding, foundation, and landscaping and helps prevent water buildup in your basement. When gutters fail, you have to evaluate the type and extent of the damage to pick the best repair method. Watch for signs that your gutters or downspouts may be clogged, and clean them as often as needed to keep the system working well.
We Repair Gutters...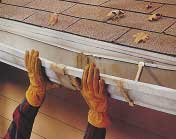 Small leaks and minor damage can often be repaired with easy-to-use gutter repair products. To fill small holes and seal minor leaks, we usegutter caulk. It is resistant to the elements and flexes without losing its seal. We also use a gutter patching kit to make temporary repairs to gutters with minor damage.
We Install Gutters...
Seamless Gutters & Gutter Protection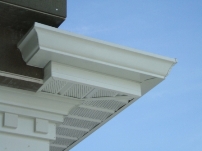 The comfort of being able to enter and exit your home without getting soaked is the most obvious reason for getting seamless gutters. But the advantages go much further than simple convenience. Let's start from the bottom. Properly installed gutter systems will direct rain water away from the buildings foundation where it may leak into the basement/crawl space, or cause damage to the foundation itself by causing it to heave or settle.

When most people picture rain gutters, they see the old galvanized gutter with rusty bottoms and hanging sections, or plastic sectional gutters with pieces missing and leaking seams. Now, with the help of the seamless gutter machine, and Trafford Home Improvement . Superior installation, Aluminum and Copper gutters make for long-lasting, attractive gutter system that will complement and protect your home or business for years to come.
If you are looking for a great gutter contractor,
please call us today at
401-954-1053
or send an email to:
calltrafford@gmail.com

Our Specialites:

/* <![CDATA[ */ function centerSocialProfilesWidgets() { centerSocialProfilesWidgets = function () {}; var wrapperDiv = document.getElementById('social-profiles-widget-wrapper'); var sidebarLi = wrapperDiv.parentNode; var liWidth = sidebarLi.clientWidth; var icon = sidebarLi.getElementsByTagName('span')[0]; if (icon) { var iconWidth = icon.clientWidth; var padding = Math.floor((liWidth % iconWidth) / 2); wrapperDiv.style.paddingLeft = padding + 'px'; } } /* ]]> */